Betty Ahern thought she knew where her life was going – until her fiancé was drafted and shipped out for North Africa during WWII. With her older brother also overseas, Betty is holding down the homefront, working at Bell Airplane and living in Buffalo's rough and tumble, working-class First Ward district. Secretly, Betty cherishes another dream. A film buff, especially of movies like "The Maltese Falcon," Betty dreams of becoming a private detective. As Betty solves crimes with the help of childhood friends Dot Kilbride and Lee Tillotson, it's "Rosie the Riveter meets Sam Spade" in a series that explores life on the home front, especially for women, during WWII with splash of whodunnit thrown in for good measure.
The Enemy We Don't Know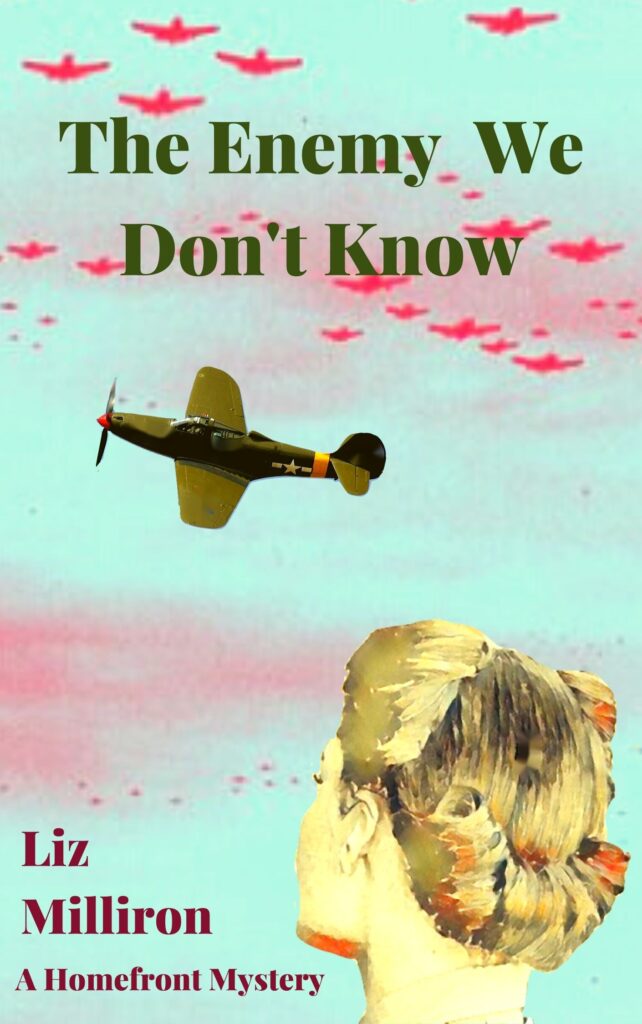 November, 1942. Betty Ahern is doing her part for the war, working at Bell Aircraft while her older brother and fiancée are fighting overseas, but she really wants to be a private detective like her movie idol Sam Spade. When sabotage comes to the plant, and a suspected co-worker hires her to clear her name, Betty sees it as her big chance.
As her questions take her into Buffalo's German neighborhood, Kaisertown, Betty finds herself digging into a group that is trying to resurrect the German-American Bund, a pro-Nazi organization. Have they elevated their activities past pamphlets and party-crashing?
When the investigation leads Betty and her two friends into a tangle of counterfeiting and murder, as well as the Bund, the trio must crack the case–before one or more of them ends up in the Buffalo River…wearing concrete overshoes.
What people are saying
"World War II on the home front comes alive in Milliron's new-series debut as Betty Ahern solves more than one mystery even while toiling in a Buffalo airplane factory with other young women. The story is riveting, Betty's courage and persistence are a delight, and her sidekicks provide perfect support and caution. The Homefront Mysteries promise to keep you on the edge of your seat…and smiling as you read."
-Edith Maxwell, author of the Agatha-nominated historical Quaker Midwife Mysteries
"Liz Milliron gives us a charming new series that I absolutely love and think you will too. Betty Ahern is feisty, loyal, and determined. Finding her way in a traditionally men's world, she not only helps the war effort by working at Bell Airplane, she's following her dream to become a private eye with a little help from her friends. If Sam Spade and Rosie the Riveter had a love child, she'd be Betty Ahern."
-Annette Dashofy, USA Today-bestselling author of the Zoe Chambers Mysteries
"A lively, richly atmospheric novel, set in the defense plants and ethnic neighborhoods of World War II Buffalo, NY, The Enemy You Don't Know is "Rosie the Riveter Meets Sam Spade." With fresh, idiosyncratic dialogue from a charismatic narrator, Liz Milliron delivers a compelling, crackerjack of a novel. Betty Ahern is the irrepressible heroine. Smart, stubborn, and—yes—reckless, she works in a defense factory building airplanes for the war effort. At least when she's not investigating disturbing acts of sabotage at the plant, snooping into the murder of a co-worker's brother, or keeping her eye on some suspicious Nazi sympathizers. And all this while doing her best to circumvent her parents' strict Irish-Catholic house rules. Readers will love this tale of derring-do on the home front."
—James W. Ziskin, author of the Anthony and Macavity award-winning Ellie Stone mysteries