by Mary Sutton / @mary_sutton73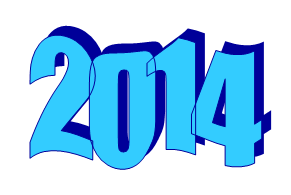 Wow. Turn around and 2014 is half gone. I'm not really sure where the first half of the year went.
It's been busy. Very busy. And since I didn't give an update in March, I suppose I should do that now. So here's the update at half-time.
Write books 5-7 in Hero's Sword
In progress. Book five, tentatively titled Fire Storm, is completed and ready to ship off to the editor, just as soon as I get the word. Of course, we're still working on the cover art for Wedding Bliss, and book 4, still called Lightning Strike but in need of a new title, hasn't gone to the editor yet. But hey, it's good to be ahead of the game, right?
Meanwhile, I've got the plots for books 6 and 7, and I'm going to start drafting six this week. No, neither of these have titles yet. I've written myself into a corner with this two-word thing, so I'm a bit stumped. For now.
Get Every Other Monday ready for an editor by September
I'm feeling pretty good about this. After ballooning the word count to 107,000 (which was way, WAY too long), I've trimmed it down to 90,000. After four revisions, I sent it out to a couple of beta readers. One of them has gotten back to me with good feedback – and she liked it. I expect to hear from the other in a few weeks. Plenty of time to get the comments incorporated, make any necessary changes, and get it ready for the next phase – and whatever comes next.
Write two more Laurel Highlands stories
One is ready and will be published this September. A Brew to Die For will go directly to digital publication, no stop at Mysterical-e first. I'm a little nervous, but hey, nothing ventured, nothing gained, right?
Start releasing the Laurel Highlands as digital shorts
Done. To date, I've released three stories: An Idyllic Place for Murder, Death & Politics, and Dead of Summer. All of those were previously published at Mysterical-e. The third in the series, Batter Down, is available in Lucky Charms: 12 Crime Tales. I won't get the rights to that one back until the end of the year. There will be another one coming – I just haven't decided whether I need to go back and plug a hole in the chronology, try to jam another story in before when Every Other Monday takes place, or to jump to after the novel. I'm thinking one of the first two.
I've even made a little money! Not a lot, but across all platforms I'd have enough to buy a venti latte at Starbucks. Even Dickens had to start somewhere, right?
Attend Writers Police Academy
In the bag. I'm registered, the fees are paid, the hotel is reserved. I'm traveling down with three friends from Sisters in Crime – it'll be a Thelma-and-Louise style road trip. I'm rooming with the one woman. So I'm sure that when I return, there will be stories aplenty. I didn't get any of the "special" classes I wanted, but I'm sure I'm going to have a fantastic time nonetheless.
Revise and expand the Black Orchid project
Notice the drop of the word "potentially." The feedback from the woman I sent it to was, "I love this. These are great characters – series-worthy. Definitely don't give this up." Now, when an award-winning author says that, you should pay attention.
My problem, according to her, is that I tried to cram a 90,000 word novel into a 20,000 word novella. The plot is weak and a bit predictable. But I can fix that. And I will. I've had a few ideas, but I'm letting them roll around in my head until the time is right. Maybe by the time I ship Every Other Monday off. I'll need a project by then.
Continue learning craft
Ongoing, always ongoing. James Scott Bell just released a book about plotting from the middle I want to pick up. And there's always Stephen King's On Writing.
So there you have it. The report at half-time. I don't think I'm doing half bad. No new goals (yet), but they, there's six months left.
Roll on 2014!